This is a general FAQ for our updated service pricing model. It is not intended to be comprehensive. If your question isn't answered here please send us an email at support@oneelevendigital.com.
What is happening?
We are implementing a new pricing model for our hosting and email services. Below is the new model we will be using:
Standard Hosting - will be sold at a rate of $216/year with storage limits. If you have a website hosted by us and it is not a WordPress, Build111, Church111 or BUILD (BuildOneEleven or CongregationOneEleven) site, it falls into this category. See Data Storage below for more details.
WordPress Optimized Hosting - will be sold at a rate of $360/year with storage limits. This is the most basic service related to hosting a WordPress site. We offer additional services that include WordPress version updates and plug-in updates, as well as more advanced maintenance and monitoring. Contact support@oneelevendigital.com for a comprehensive review and consultation regarding the best plan(s) for your complete WordPress needs. See Data Storage below for more details.
Email - will be sold at a rate of $120/year for 1 to 5 email user accounts and $24/year for each additional user above 5. Storage limits will also apply to email service. See Data Storage below for more details.
Data Storage - All customer accounts that include at least one subscription to Standard Hosting, WordPress Optimized Hosting, and/or Email include 40GB of storage that can be divided across services as needed. Additional storage will be billed at a rate of $2/GB per month
Note: 40GB of storage for the services above is generally sufficient but if there is ever a concern, we can help review the account and assist in minimizing the amount of storage that is being used.
Domain Registrations and Renewals
Domain registrations/renewals for accounts in which the domain is used for hosting or email will be sold at a rate of $22/year.
Domains registrations/renewal for account in which the domain is not part of any service other than DNS only, will be sold at a rate of $38/year.
How do I check/monitor my account's data usage?
Every account utilizing Standard Hosting, WordPress Optimized Hosting, and/or Email services includes a cPanel account. Once in your cPanel account, you can see how much storage your account is using. See the next question below for a description of what cPanel is.
For assistance on how to log in to your account's cPanel, please refer to this article:
https://support.oneelevendigital.com/hc/en-us/articles/360038800311-How-to-log-into-cPanel
After accessing the cPanel dashboard, look to the righthand side for an area labeled "Statistics". It is highlighted with a green box in the below image.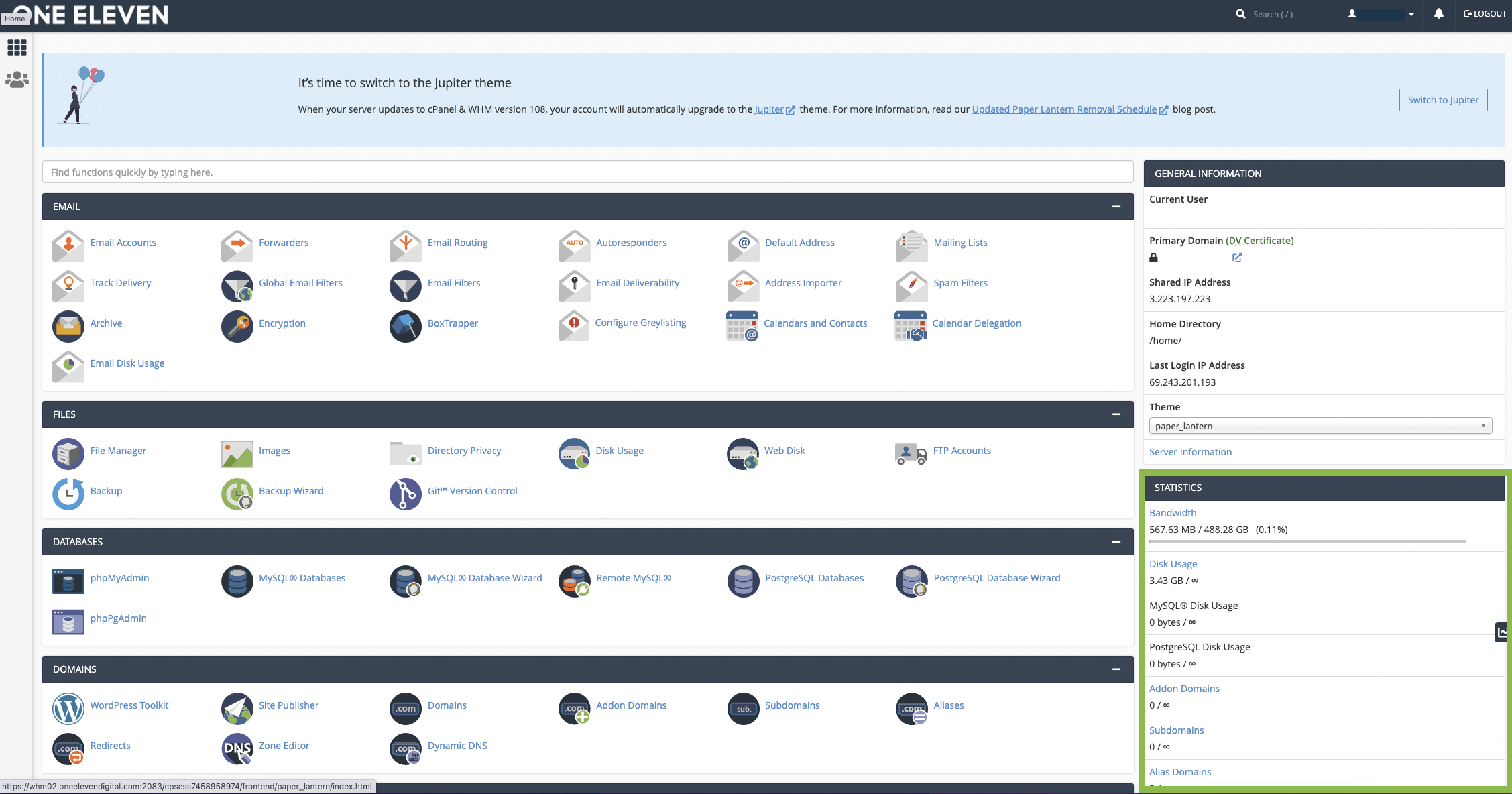 Within "Statistics", find where it says "Disk Usage".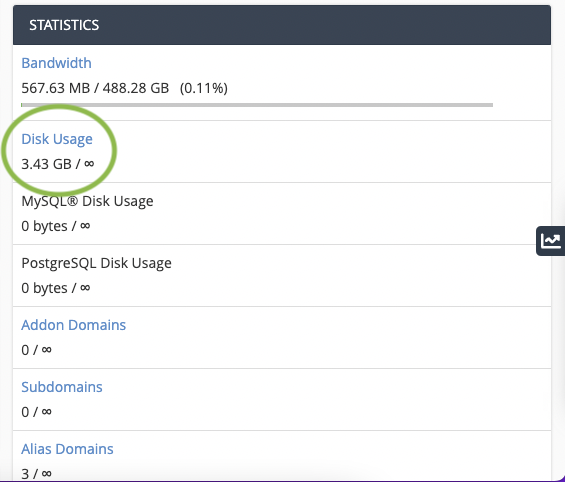 This number represents how much storage your account is using on the One Eleven servers. Every account has an allotted 40GB of space.
What is cPanel?
cPanel is a popular control dashboard that enables you to manage your web hosting and email services through a human-friendly web-based interface. Without cPanel, management of your services would require more advanced technical skills but with cPanel, you can manage your services and view data using a graphical interface with very little technical knowledge required.
How do I reduce my overall account storage?
Most of our customers are not likely to exceed their account's 40GB storage threshold. If you are in need of more storage or you are concerned about overage charges, please reach out to support at support@oneelevendigital.com.
What can I do to reduce the cost of my email service?
Per the new pricing model, Email service includes up to 5 different email addresses with the base cost. Additional user accounts will cost $24/year, or $2 a month. If you currently have more than 5, here are some tips you can use to reduce your cost:
Assess how much use each account receives. Is there an account that was set up a while ago that proved to be less useful than anticipated? Is there an account still set up for someone that is no longer with your organization? Please refer to this article on how to delete and otherwise manage email addresses in your cPanel.


Set up email forwarders to send to your main email account instead of having separate addresses for specific needs. If, for example, you have accounts like 'hello@example.com'

or 'info@

example.com

', but they are catch-alls and you really just use one main account, you could delete those extra accounts and have it set up so that if someone emails 'hello@

example.com' it can forward to your main account. To learn how to set up email forwarders, please refer to this article.
Why are these pricing changes happening?
Multiply's predecessor, ICG link, launched hosting and email service nearly two decades ago on a primitive physical sever system. Multiply has completely replaced that system with a substantially improved, secure, stable, modern, cloud-based infrastructure. Our services have greatly improved in the past three years.
This new pricing structure better reflects the value of our investment in the services we offer you.
What exactly is my new price?
If you would like to review your account and the new pricing for your services, please reach out to us at support@oneelevendigital.com. Keep in mind that your new price may vary depending on your usage.


Can my email still be included in my hosting fee?
No. We are no longer packaging email with other services. "Free" email services like Gmail sell your data, have storage limits, and limit your ability to use your own domain. We do none of these things. If you would like a free email service, we will be glad to help you decide if that is the right option for you.
Do I have to do anything?
Nope! We're handling it all on our end.
Is this email pricing fair?
The new email pricing is on par with other domain email providers like Google, Rackspace, and Microsoft 365. There may be basic, entry level tiers of those services that are cheaper for a single user than our $10 base fee.
Is there an "Unlimited" plan?
No.
Why did Domain Registration/Renewal pricing

increase?
The cost of registering and renewing domains has increased with our USA-based registrar partners. Our new pricing reflects this increase.
I'm confused. Does One Eleven host my email?
If you are reading this, it is more likely than not. If you aren't certain, you can put your domain name in here: https://mxtoolbox.com/

If the number returned is either 18.218.239.99 or 3.223.197.223, we host your email.
If you believed we have contacted you about this change in error, please let us know.


Are any more changes coming?
If you use Build111 or Church111, yes. See this article.